About Our Office
Seeing Your Smile Makes Our Day!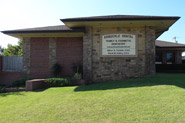 At Arbuckle Dental, we're dedicated to you. We devote as much time as necessary to each patient, listening to your concerns, as well as your oral health goals, and developing a conservative treatment plan that best suits your individual needs. Drs. Hobbs and Pettigrew want your experience to be the best it can be both professionally and personally. We look forward to meeting you and getting to know you and your family. We hope you'll take a few minutes to get to know us, too.
Our Technology
Our priority is providing you with optimal oral health. Offering leading edge care is a part of that commitment. Arbuckle Dental uses advanced dental technologies including:
Intraoral Cameras: Using a pen-sized, camera-tipped wand, we take a video of the inside of your mouth, which transmits the images via cable to a computing unit.
Digital X-rays: Now, when you come into the office for X-rays, a tiny sensor is placed in your mouth to emit a small amount of radiation – up to 90-percent less than traditional X-rays require. This creates a detailed image of your internal oral structures that is immediately viewable on a chairside monitor.
DIAGNOdent Cavity Detection: DIAGNOdent technology uses a laser diode to inspect teeth and uncover decay. Quick and precise, no X-rays are required with DIAGNOdent, so patients do not have to worry about radiation exposure.
Electrocauterization: This technology uses a small probe with an electric current running through it to seal tissue as incisions are made. Safe and effective, electrocauterization minimizes bleeding, which shortens healing time.
The Wand Anesthesia Delivery System: The Wand manages the flow and volume of anesthesia being delivered, offering accuracy for the area being numbed. A drop of topical numbing agent first numbs the injection site, and then the needle creates a comfortable injection pathway.
Dental Vibe: Patients can look forward to more comfortable care with this award-winning, hand held tool, which uses soothing vibrations to distract from the feelings of discomfort an oral injection can cause.
Soft Tissue Laser: Using a soft tissue laser, your doctor can deliver care that's more precise and more comfortable, with a shorter recovery period afterwards. Soft tissue lasers touch only the part of your smile that needs care, and no stitches are necessary afterwards.
Comfortable Dentistry
Life is stressful, visiting the dentist doesn't have to be. We understand that when you're relaxed and comfortable, it's much easier to smile. At Arbuckle Dental, we offer many amenities for a stress-free appointment including:
Oral conscious sedation erases feelings of anxiety and lets our team finish more work in a single visit
Eight operatories situated to take advantage of scenic views and watch the turtles roam
Ceiling mounted TVs in every operatory
Blankets for extra warmth and comfort
Kid's Game Room