Meet the Team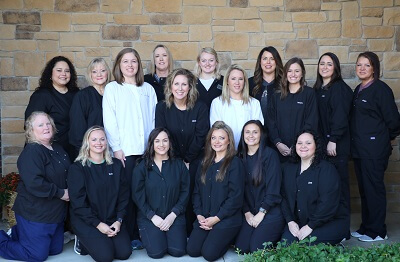 Lisa Williams, Dental Hygienist
A registered dental hygienist, Lisa assists our patient with professional hygiene and oral health education. She has been a dedicated team member since 1991. Lisa feels privileged to work at a practice utilizing the latest technology and providing patients with comprehensive dental services, including cosmetic dentistry. She is passionate about her horses and spends much of her free time riding.
Nikki Jo Watkins, Dental Hygienist
Nikki Jo has been working in dentistry for 10 years now, and she worked as a substitute team member for our team for a few years before finally joining permanently in 2016. She is a two-time graduate of Taft College, first in 2005 and then in 2007 with her dental hygiene degree. She loves the opportunity to work with people, friends, and neighbors in her community! As a people person, she truly cares about the comfort and wellbeing of others and hopes to provide every patient with a pleasant and educational experience. She is a true farm girl at heart and enjoys team roping, raising dogs and horses, traveling, and spending time with family.
Leah Rushing, Dental Hygienist
Leah graduated from the University of Central Oklahoma with a B.S. in Early Childhood Education and continued her education at the University of Oklahoma where she received her B.S. in Dental Hygiene. She has been a member of our team since 2016 and greatly enjoys getting to know patients and helping them have pleasant experiences in the office. She feels very much at home at Arbuckle Dental, and working with a team that all shares the same goal of making patient care a priority is a wonderful feeling. Leah and her husband Denver currently reside in Ardmore and have one daughter. When she has free time, she enjoys traveling, cheering on the Sooners and the Thunder, and spending time with friends and family.
Katie Nowlin, Dental Assistant
Katie is a new addition to our practice, and she has three years of dental experience overall. She is a people person who loves to see patients happy with their new smiles, and her favorite part of her job is the fast-paced, upbeat environment that helps everyone feel at home and well cared for. In her free time, she enjoys spending time with her husband and baby boy Camden, watching movies, shopping, and traveling.
Mitzi Madron, Dental Assistant
Mitzi is a chairside assistant for Dr. Hobbs. She has thirteen years of experience in the dental field, along with education in radiation and coronal polishing. Dedicated to efficiency, Mitzi is proud to work for a progressive practice where new technology and quality dental care are important. When not assisting patients, she likes to spend quality time with her two boys and husband.
Jaylynn Flowers, Dental Assistant
Jaylynn joined our team in 2011 as a dental assistant, bringing with her several years of experience in the dental industry. Prior to that, she studied for three years at East Central University. Going above and beyond to provide patients with the most up-to-date dental care possible is our mission, and Jaylynn uses her caring, friendly personality to help us. Outside of work, Jaylynn enjoys doing stain glass and spending time with her friends and family, especially her husband and 2 sons.
Sonya Harpestad, Dental Assistant
Sonya has been working in dentistry for 19 years now, first joining our practice in 2000. She loves helping people feel better about their smiles! Originally from Sulphur, she and her husband have a son, a daughter, a daughter-in-law, a son-in-law, and three grandchildren. Outside of the office, there's nothing she enjoys more than spending time with family and friends.
Pam Riggin, Front Desk
Pam joined our front desk team in 2014, bringing with her more than 30 years of experience in dentistry. Over the course of her career, she has completed a range of continuing education courses in dentistry and in management. She loves working with our happy, caring team and appreciates the warm, welcoming atmosphere we strive to create every day. When she's not helping us deliver exceptional care, Pam enjoys gardening and spending time with her family and friends. She especially enjoys spoiling her grandchildren.
Dea Gray, Front Desk
Dea first joined our practice in 2017, and she loves its small-town charm and the daily challenges of keeping all the moving parts flowing smoothly. She has several degrees, including her Associates in Applied Science, her Associates in Accounting, and her Bachelor of Science in Business Management. Her friendly, outgoing, and take-charge personality makes her a great fit for her job! Outside of the office, she enjoys taking photos outdoors, camping, and spending time with her husband James and two children.